Phil Flash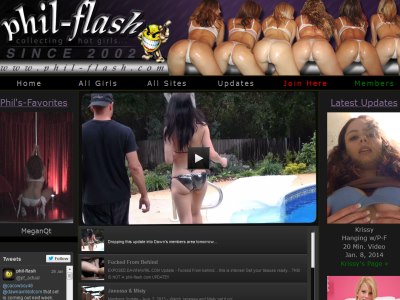 If you're into non-nude softcore, then chances are you've already heard Phil Flash's name on more than one occasion. His stable of girls including the likes of Next Door Nikki, Seanna Teen, Princess Blueyez and Megan QT.
Phil Flash: Naughty teen in socks strikes sexy poses in hot solo action
Phil Flash Review
4-February-2014
Freetour offers: At first glance, the tour seems uncharacteristically bland. There's quite a bit of information presented in the form of text at the top of the page. You need to scroll down to see some goodies. Be sure to check out the other pages of the tour. You will really start to get an idea of just how vast the range of content within the Phil Flash member's area really is.

General impression: I was already very familiar with Phil Flash's work, having already been inside the member's areas of some of his girls such as Next Door Nikki and Megan QT. So, my first impression would be a little biased. My mouth was watering before I even arrived at the website. I couldn't wait to see what other beauties he had in store for me at his flagship website.

Bravo's opinion:  As you may have already guessed, Phil-Flash is a softcore website. Besides Phil's most popular girls, you will also find a whole bunch of other girls. These girls may not have their own websites just yet, but plenty of them are every bit as hot as the likes of Next Door Nikki and Megan QT.

I think one of the most impressive things about this website are the updates. Do weekly updates impress you? How about a website that updates every single weekday? Sometimes with 1 new photoset or video, and sometimes with as many as 4 in a single day. Sounds good? You bet. And on top of that, there are the cam shows which happen nearly every single day. Basically, just about every day of being a Phil-Flash member will get you something new to enjoy.

The content in Phil's website is broken up into a few areas. Firstly, there's the amateurs area. Phil may already have a stable of regular girls, but he's always on the hunt to find more amateur beauties. This is where the girls he finds will appear. Next is the cheerleader section. Phil Flash has his very own cheer squad made up of 16 cheerleaders! That lucky bastard. ;)

The Exclusives area is where you'll find a boatload of pictures of the various P-F girls as well as a whole lot of candid stuff such as chicks at the beach, wearing tight jeans, and Mardi Gras, videos of girls dancing in clubs, etc. Also, any P-F shoot that involves multiple girls will be in this area of the website.

The guest model area speaks for itself. This is of course where you'll find models that are friends of Phil's or one of Phil's girls. These girls love to contribute some of their very own pictures and videos to Phil's website. Next is the Live-ism area. This is something I've never seen before. Check back to this page from time to time. If you're lucky, you'll catch a live broadcast of one of Phil's photoshoots.

Undoubtedly one of Phil's most loved girls is Tiffany Teen. Chances are, you've already seen this girl. You'll be happy to know that Tiffany's website has actually merged with Phil's flagship website. The result is that Tiffany's entire member's area is now within Phil's member's area, and is still being updated!

You'll also find the member's areas of two other Phil Flash girls: Brandy's Box and Meredith 18. These girls' websites no longer update, so Phil has decided to give you access to all the content from those websites as a bonus for joining the Phil-Flash website!

As you can tell, there's a really wide range of content available on Phil's website. And if you've encountered Phil's stuff before, then you know he's a very able photographer. But what makes this website particularly good is the file quality. I see great photography every day that is limited by some website owner who decides to give members tiny photos. That's not the case here. Phil's photos get every opportunity to show off their full potential in huge pictures measuring 1200 pixels on the longest edge. The video area is a similar story. Again, the quality of the shoot is great, and the file quality follows suit. Expect to find videos measuring at least 640 x 480 for regular videos and 720 x 480 widescreen videos. The word from Phil himself is that there should be High Definition videos appearing in the very near future on his website.

With such a wide range of content, it's no surprise that the archive is huge. At the time of this review (January 2014), there were an incredible 60 thousand pictures and 320 videos. Remember that those numbers are growing each weekday!
Phil Flash Site Facts
Videos
320 Galleries
640x480 pixels MPEG 1800 Kbps (downloadable)
720x548 pixels Windows 2100 Kbps (downloadable)
DRM: No

Exclusive
Most content is exclusive

Cost
Monthly: $29.95 1 month

Billing
CCBill
Credit Card 900 #, Online Check
Conclusion 83/100
Phil Flash is a photograph whose work I've admired and used (ahem!) for quite some time. I'd never actually gotten to see his flagship website before this, and I'm happy to say that it did not fall short of my very high expectations. Both the models and the quality of the content are outstanding. Taking into account the number of pictures and videos available, the cam shows and the fantastic number of updates, I can honestly say that this is one amateur website well worth the asking price. I also love the fact that the price of the membership reduces after your first month! Enjoy.
Visit Phil Flash
Categories