Night Invasion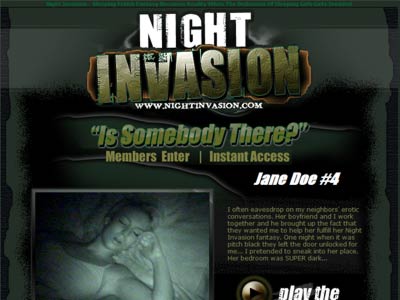 Nigh Invasion has got to be one of the most controversial adult websites on the web. Our prowler meets women who share his Night Invasion fantasies and they make arrangements to act them out. She leaves the door open for him so he can have his way with her while she sleeps.
Night Invasion: Girlfriend exposed and filmed for a great fuck session
Night Invasion Review
23-May-2012
Freetour offers: On the free tour of Night Invasion, you'll find several previews of scenes from within the member's area. For each preview, you get a description of the scene, four small thumbnail images and one large thumbnail image. There is also a sample video for each of the scenes depicted on the tour. I'd definitely recommend you check out the sample videos to get a better idea of what to expect inside. Websites like this aren't common and it's difficult to know what to expect once you're inside. The sample videos do a great job of conveying exactly what you'll be getting access too.

General impression: Wow! Talk about controversial. But hey, controversy sells. And I bet this site is going to draw quite a few of you guys in. May I please say in advance: no hate mail! This website is purely fantasy. The girls are aware before hand that there's going to be a Night Invasion into their place. They know full well that they're going to be spied on, undressed and touched. So if you're going to continue reading any further, please check your indignation at the door.

Bravo's opinion:  The design of the member's area is great. It has that same dark feel of the tour. You feel as though you're watching these girls with the intruder. It's almost like you're viewing the site in the same night vision view as all the scenes are shot in.

The design is actually very simple. At the top of the page is the menu which links you to the various areas of the website, the main two of which are obviously the picture and video archives. But there's also links to a bonus DVD library and an even more impressive bonus which I'll tell you more about later. A great place for member's to start is the Top Voted area. In here, you'll find the scenes which have been given the highest rating by other members just like you. Every picture gallery and video scene can be given a vote.

The archive of videos inside Night Invasion currently stands at 116 scenes. Each video scene is accompanied by a picture set which is just screencaps taken from the video scene. So obviously, there's also 116 picture galleries available. Updates are a bit on the sporadic side. There doesn't appear to be a rigid update schedule. I'll tell you this much, though. I looked through the archive and there didn't seem to be a gap between updates larger than 10 days. Sometimes an update came as soon as 5 days after a previous update. So basically, you can expect 1 or 2 updates every fortnight.

Video quality is not the best. Which is unsurprising given the nature of this content. The resolution is actually higher than what's considered average, with all videos measuring 480 x 360 pixels. But the bitrate the videos are encoded at is only slightly above 400kbps, which gives the videos a bit of a grainy look. Honestly, I think this is great. It makes the videos seem that much more realistic which in turn adds to the fantasy of the Night Invasion. I mean, if you imagine this actually taking place, then obviously the guy filming his Night Invasion adventures isn't going to have a camera crew alongside him with professional lighting. He's going in there with a hand held night vision camera and nothing else. It's all very amateur. And it fits in absolutely perfectly.

All the videos are available in a full-length file and as clips with the above mentioned specs. There are also lower quality full-length file for those of you out there on slow connections. The resolution of these videos is just 480 x 360 pixels and the bitrate is barely over 800kbps.

As I mentioned earlier, the picture galleries are just full of screencaps taken from the video. The quality is obviously not the best. I just use 'em as a means of previewing a scene, to be honest. You're better off just watching the videos. In any case, I should tell you that you can expect to find between 24 and 30 pictures in most of the galleries. And the resolution of all the pictures is 750 x 500 pixels.

My favorite scene is Jane Doe 43. She's fallen asleep on the couch while watching some porn. You can hear the moaning and wet sounds of sex in the background when he arrives. She had obviously been watching it while she was awake. She's only wearing a ridiculously short night gown. The frills at the bottom only barely cover the top of her ass. And she's not wearing any panties, making it very easy for her invader to get what he wants. He starts at her tits, though, dragging the top down to expose her. He grabs at them, squeezing them and massaging them. He loves playing with her nipples. He then starts to finger her. She's already wet. Possibly from the porn, but more likely by knowing she was going to be a "victim" of a Night Invasion. He then starts fucking her slowly. Even in her sleep, she can't help but moan. When he's finished, he cums on her face and leaves.

The bonus video library contains something like 600 scenes. About 300 of these come from 22 different reality websites such as Back Seat Fuck, Her First Lesbian Sex, College Fuck Parties and Her First Anal Sex just to name a few. One of the sites that will definitely appeal to fans of sites like Night Invasion is Hypno Bitches. This is another fantasy website, not unlike Night Invasions. So called "Patients' visit this shrink who promises he can help them using hypnotization. But the only thing he helps them with is getting their clothes off and having his way with him. And once he's finished with them and dressed them up, they wake up being none the wiser!

Members of Night Invasion also receive bonus access to 5 other websites in the Unlimited Access Pass network: Cali Teens, Insane Coeds, I Love Black Girls, Wave Hos and San Diego Latinas. Access to these sites and the above mentioned video library is completely complimentary. It won't cost you a single cent extra!
Night Invasion Site Facts
Videos
116 Galleries
480x360 pixels Windows 500 Kbps (downloadable)
Full Scenes: Yes
Multi-Bandwidth: Yes
Video Captures: Yes
DRM: No

Exclusive
All content is exclusive

Cost
Trial: $4.95 3 days
Monthly: $29.73 1 month

Billing
CCBill, Epoch
Credit Card Online Check
Conclusion 78/100
This website is certainly different. You won't find many sites like this one. In terms of value for money, I think you're getting a great deal for less than 30 bucks per month. I mean, content like this is not very common. So if you're into it, there's not many places to choose from. So they really could be charging more and probably get away with it. But the fact that you also get bonus access to 5 more websites means that Night Invasion isn't just good value for money; it's great value for money. If you're looking for something a little different or for something that's thrilling, then I'd recommend Night Invasion. Enjoy!
Visit Night Invasion
Categories